ANNUAL LETTER
FROM FOUNDER
RESHMA
THIS
YEAR
WAS
AS
DIFFICULT
AS
THEY
COME
—
A
PANDEMIC,
AN
OVERDUE
RECKONING
AROUND
RACIAL
INJUSTICE,
A
TRANSITION
TO
REMOTE
WORK
AND
LEARNING.
But through it all, I saw nothing but resilience, bravery, and leadership from our team, our partners, our girls, our community.
The staff at Girls Who Code spent the year working to design and deploy new virtual initiatives for our community. Our amazing partners stepped up to support Girls Who Code when we needed it most. And our girls showed a kind of leadership that we should all admire and aspire to.
I've never been more proud to be the leader of this incredible organization. And I believe, in my heart of hearts, that leaders must know when to step aside and make room for new vision and leadership. That's why this year, I announced that I'll be passing the baton to my amazing friend and Girls Who Code Chief Operating Officer Dr. Tarika Barrett to replace me as the Chief Executive Officer of Girls Who Code. I will remain on as the new Chair of the Board of Directors, and the organization's biggest cheerleader.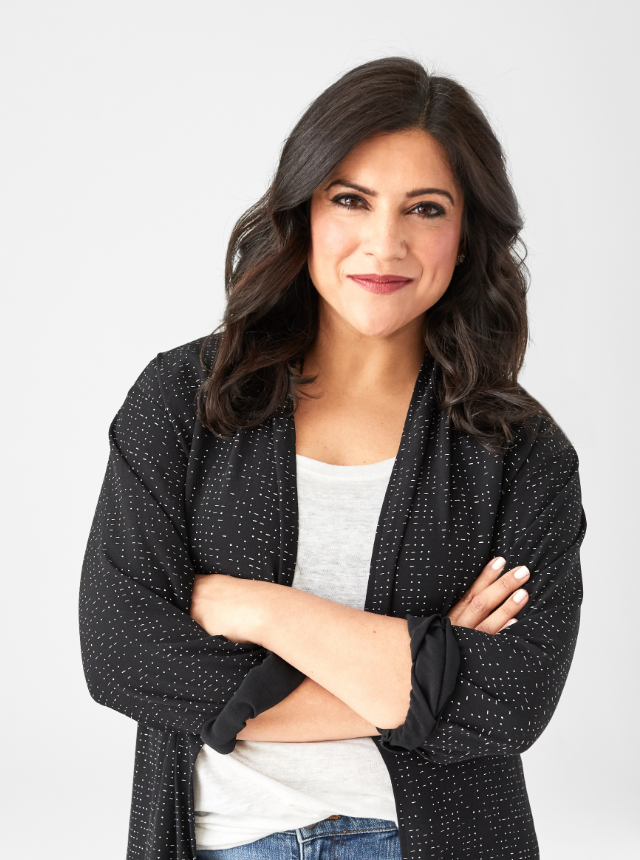 This is a new chapter for Girls Who Code. In our first decade, we reached 450,000 girls—half of them Black, Latinx, or low-income. Our cohort of college-aged alumni grew to 90,000 young women. And our culture-change work is shifting hearts and minds.
Now, heading into our second decade with Dr. Barrett at the helm, all data points to the organization closing the gender gap in new entry-level tech jobs by 2030. I can think of no better moment for a transition in leadership, and no better person to step into the role. Tarika has lived the experience of so many of our girls and spent her career fighting for equity. Our girls will see her in this new role, and know anything is possible.
I hope you can join me in congratulating Dr. Barrett, and in cheering for Girls Who Code in the years to come.
With love,
Reshma Saujani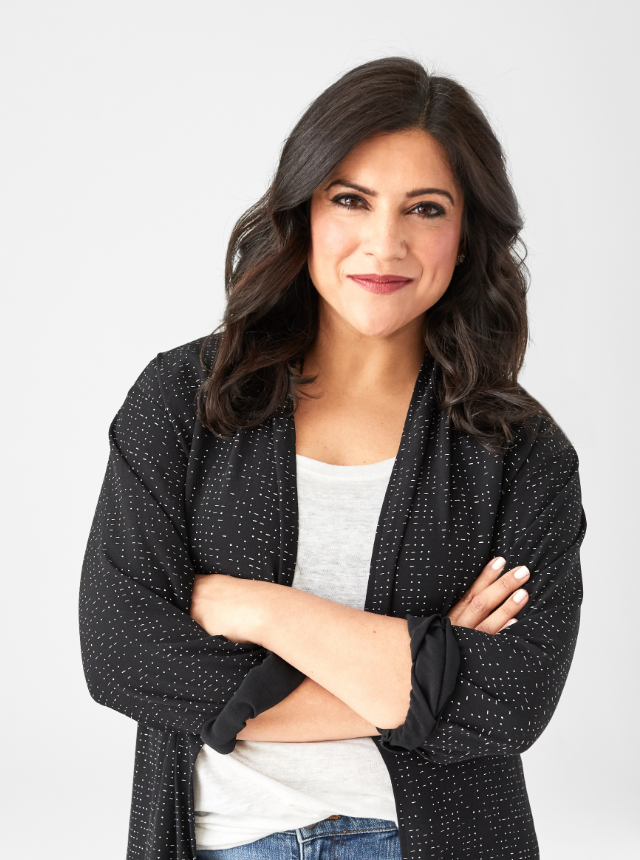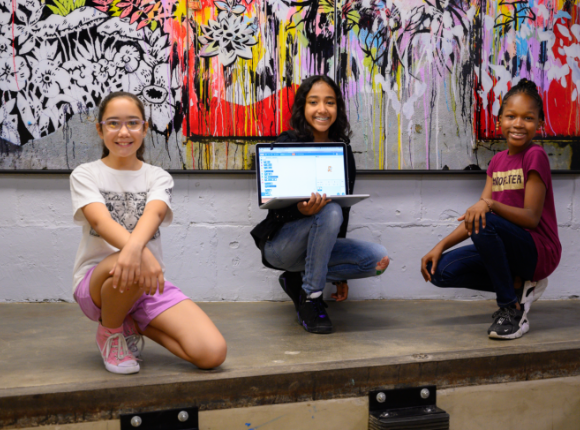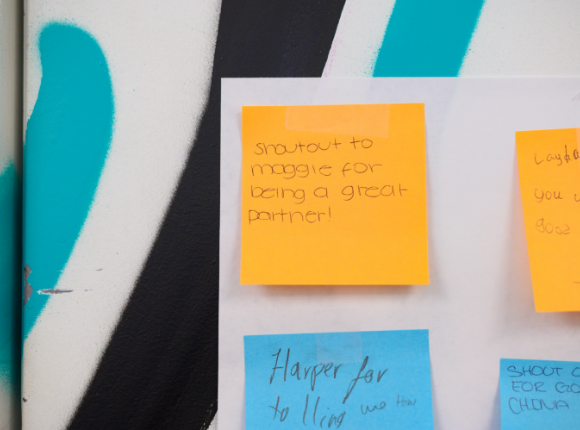 BY THE
NUMBERS
2030
is the year in which we are on track to close the gender gap in new entry-level tech jobs
13 BILLION
engagements globally
450,000
girls and young women served to date
50%
of girls served come from historically underrepresented groups in tech
In 2021, there are nearly
90,000
Girls Who Code alumni who are college-aged or post-college aged
There are now almost
3X
more Girls Who Code college-aged or post-college aged alumni than the number of women graduating with CS and related degrees in the US in 2019
OUR PROGRAMMATIC
WORK
GIRLS SERVED
SINCE 2012
450,000
Girls Who Code has served 450,000 girls to date. We know that our Clubs, virtual Summer Immersion Program, and Code From Home activities are constantly expanding the pipeline of girls in computer science, and that our programming for college and workforce-aged young women is helping to retain girls in tech. We are getting closer to parity everyday.
STUDENTS & ALUMNI SERVED
BY PROGRAM
Our programs continue to grow and serve girls all along the pipeline.
GIRLS SERVED
375,500
STUDENTS REACHED BY
PROGRAMS IN THE U.S., CANADA,
INDIA, AND THE U.K.
411,000
TOTAL STUDENTS REACHED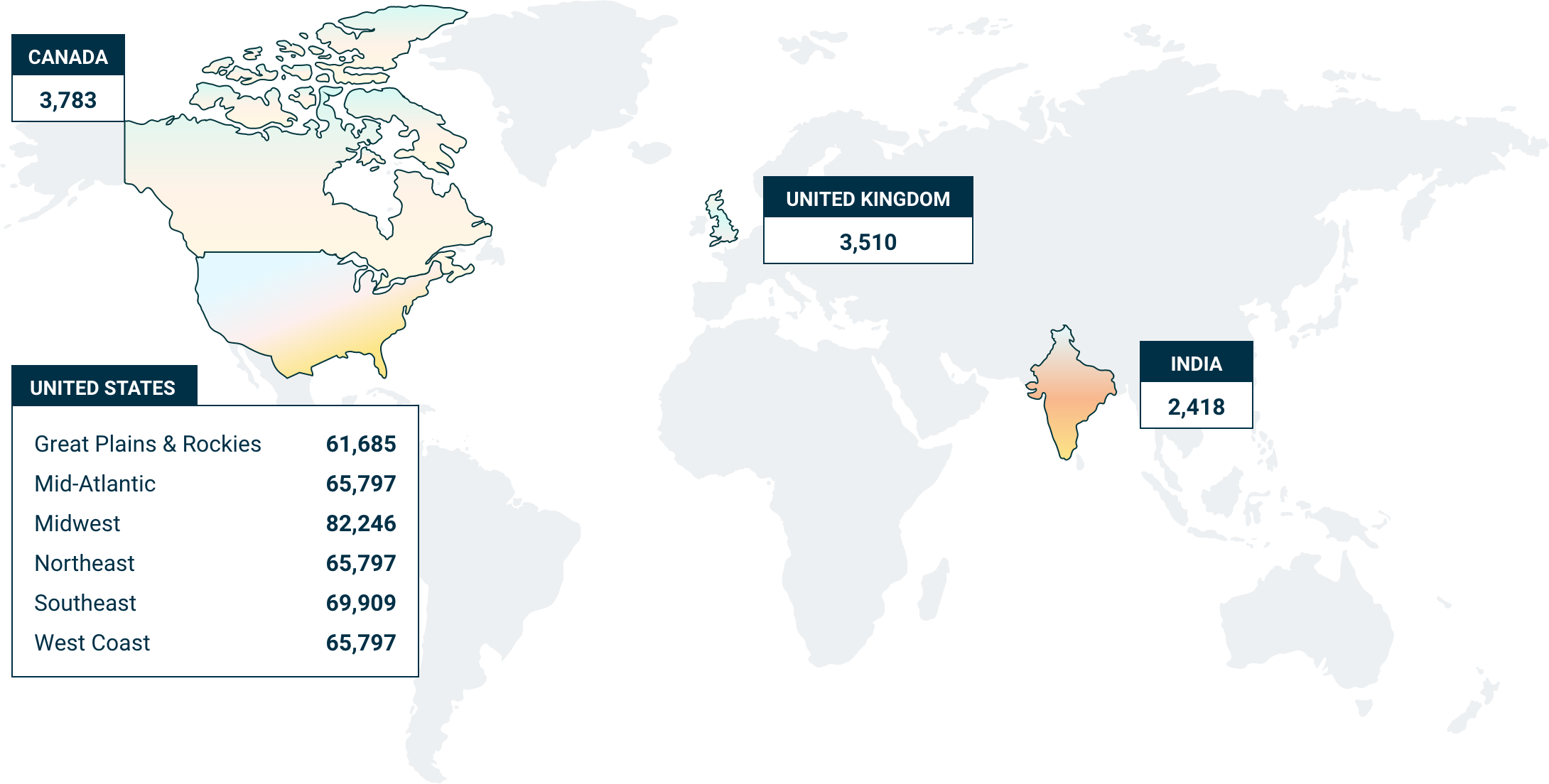 OUR PIVOT TO
VIRTUAL PROGRAMMING
The global pandemic has exposed and exacerbated the inequities in our education system and workforce, making it even more critical for Girls Who Code to step into the gap and serve girls in the highest-need communities. Yet there has been a silver lining. While challenging, the shift to remote learning has allowed Girls Who Code to serve more students, eliminating barriers like geography and pushing our organization to deploy new virtual initiatives to address the needs of our community. We remain committed to supporting girls in the highest-need communities, closing the gender gap in tech, and coming out of this pandemic even stronger.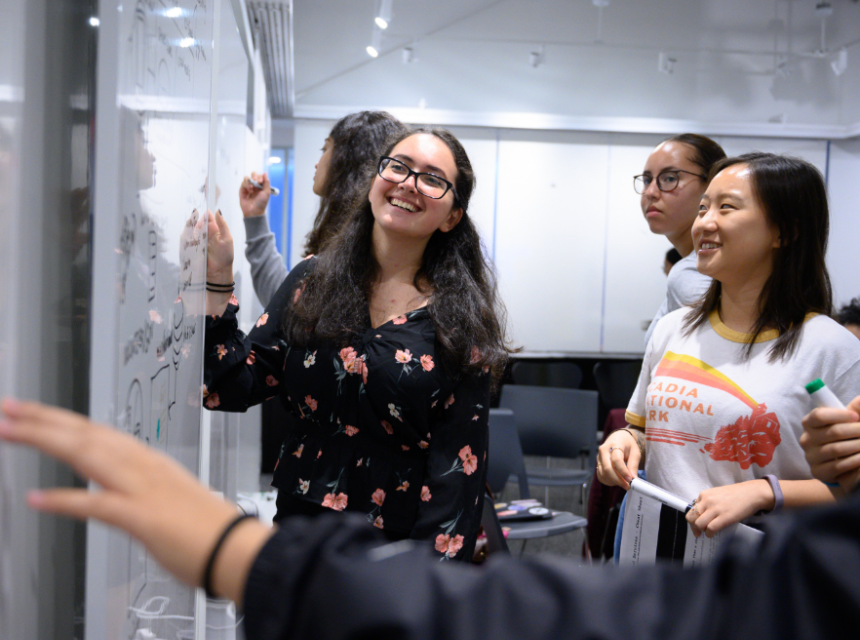 VIRTUAL
SIP
Served 5,000 girls around the world—the largest number we've ever served in the summer and 3X the number of girls served in-person the year prior. More than half our students are Black, Latinx, or low-income. Research indicates our virtual program is as effective at sparking interest in Computer Science as our in-person summer program.
VIRTUAL
CLUBS
Adapted our Clubs program to offer an all-virtual option for Fall 2020 and rolled out new resources for Facilitators to lead their Clubs remotely.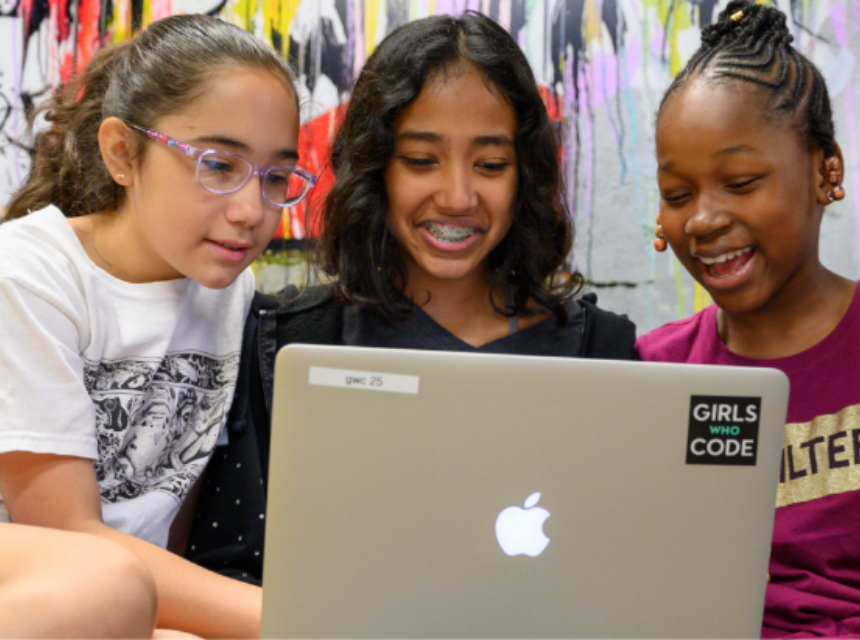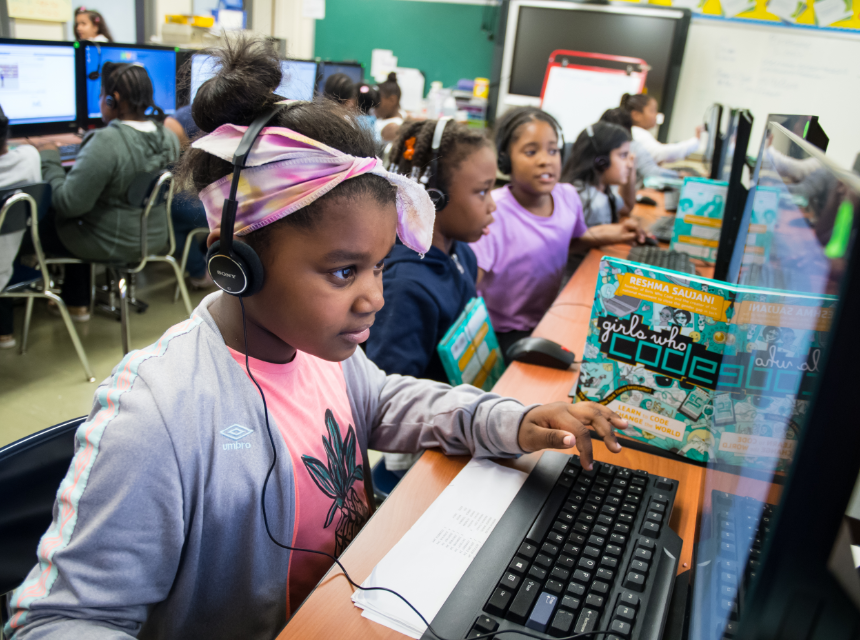 CODE
AT HOME
Released dozens of free, downloadable coding activities. Millions of people engaged with Code at Home in 2020.
GIRLS WHO CODE
TALKS
Launched to address the educational and professional needs of young women in response to the COVID-19 pandemic, GWC Talks reached more than 5,000 young women in 2020.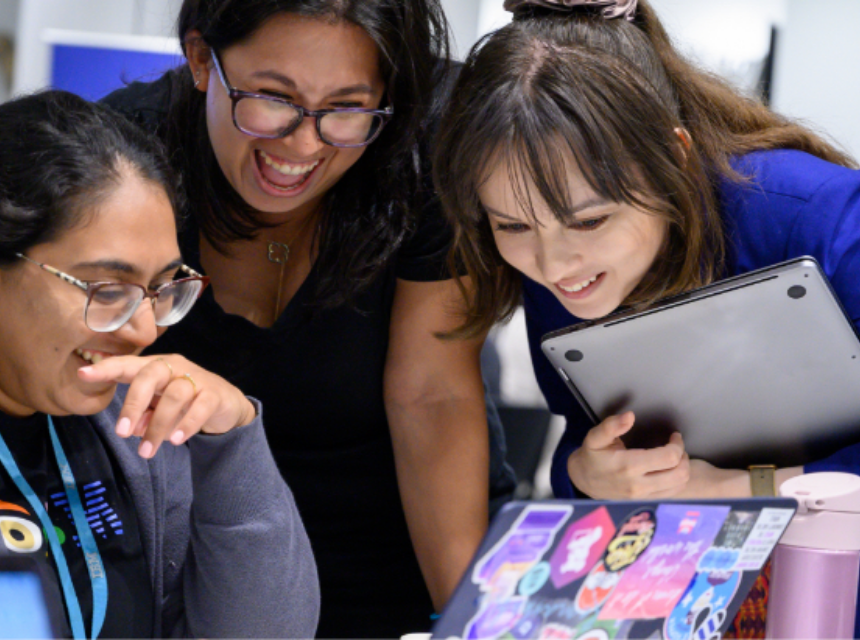 OUR
ALUMNI
IN
THE
LAST
YEAR,
THE
NUMBER
OF
GIRLS
WHO
CODE
COLLEGE-AGED
ALUMNI
GREW
TO
0
That number is three times the number of women who graduated with computer science and related degrees in the US in 2019. We continue to develop programming to help young women persist and succeed in the tech workforce, including: Girls Who Code Talks, Girls Who Code Virtual Hiring Summit, and more.
OUR ALUMNI
ARE DOING
INCREDIBLE WORK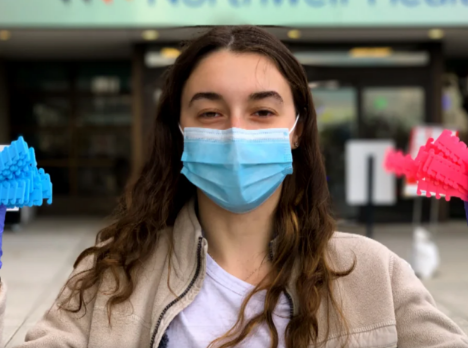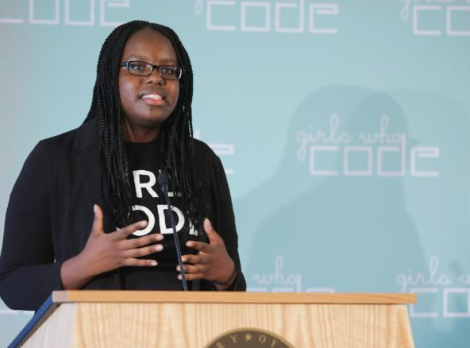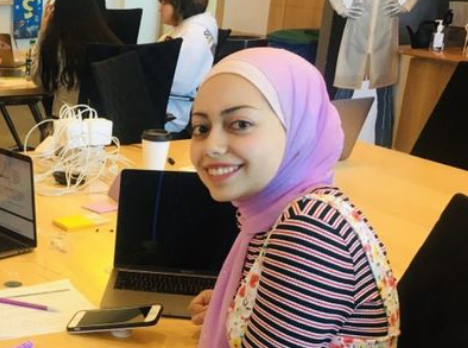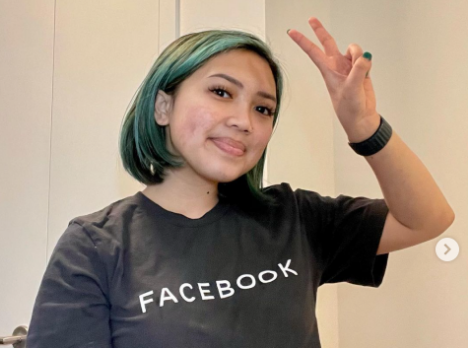 OUR CULTURE
CHANGE WORK
Girls Who Code has always been a leader in the fight for women's equality. We're not just teaching girls to code, we are changing culture—culture that says women and girls aren't as smart or valuable or as worthy as men, and that they don't have a place in tech. Our campaigns and brand partnerships help shift hearts and minds, showing that girls belong in tech.
GIRLS WHO CODE
GOES TO THE
SUPER BOWL
We partnered with Olay on a Super Bowl ad featuring actors Busy Phillips and Taraji P. Henson, comedian Lilly Singh, journalist Katie Couric, and retired astronaut Nicole Stott. The ad was a part of Olay's incredible #MakeSpaceForWomen campaign.
WATCH VIDEO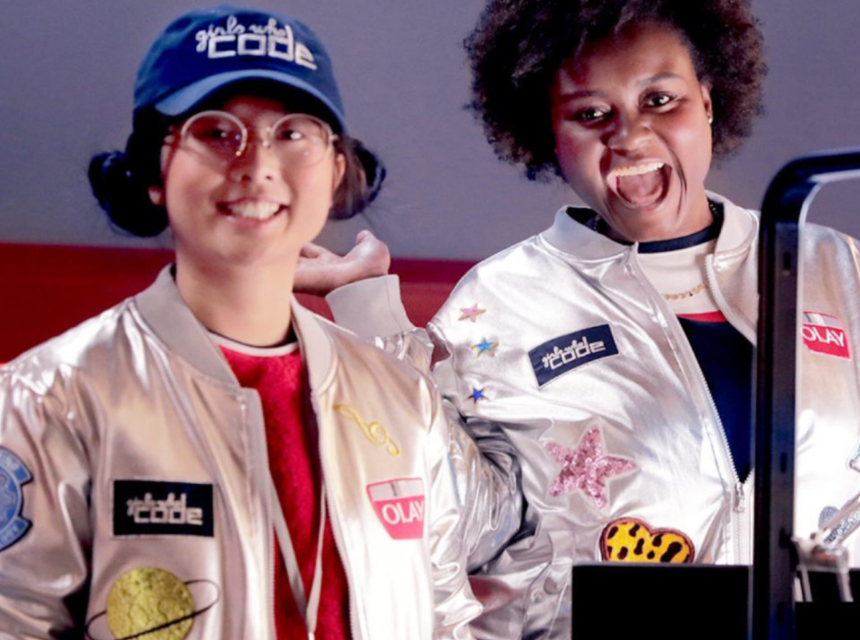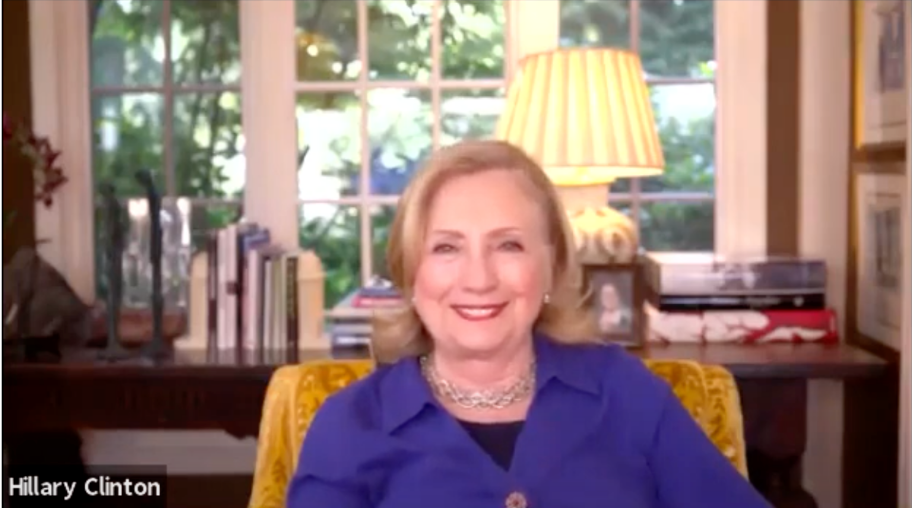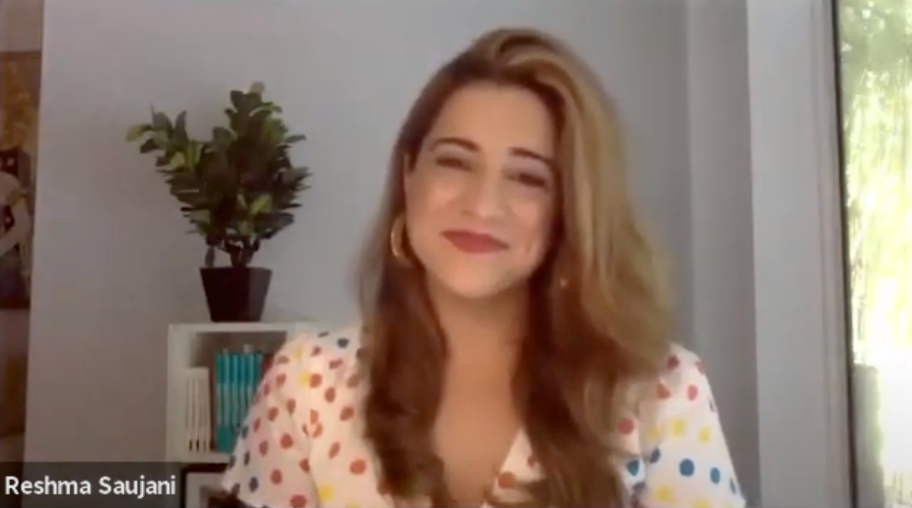 STAR-STUDDED
SUMMER SPEAKER
SERIES
We knew we had to do something special this year for the girls in our first-ever virtual Summer Immersion Program, so we lined up a star-studded speaker series to lend them words of inspiration. Speakers included First Lady Dr. Jill Biden, Co-CEO and President of Ariel Investments Mellody Hobson, journalist Soledad O'Brien, actress & activist Yara Shahidi, former Secretary of State Hillary Rodham Clinton, former CEO of Pepsico Indra Nooyi, CEO of Twitter and Square Jack Dorsey, Co-Chair and Founder of the Gates Foundation Melinda Gates, NASA astronaut Christina Koch, Netflix CMO Bozoma Saint John, Zoom CEO Eric Yuan, body positivity advocate Jessamyn Stanley, former U.S. Education Secretary John King Jr., and Co-founder and CEO of Co-Star Banu Guler.
GIRLS WHO CODE
AMERICAN GIRL
You cannot be what you cannot see! It was an honor to partner with American Girl on their first-ever gamer girl doll: Courtney. As a part of the partnership, American Girl granted four $5,000 scholarships to Girls Who Code students to help further their education in computer science.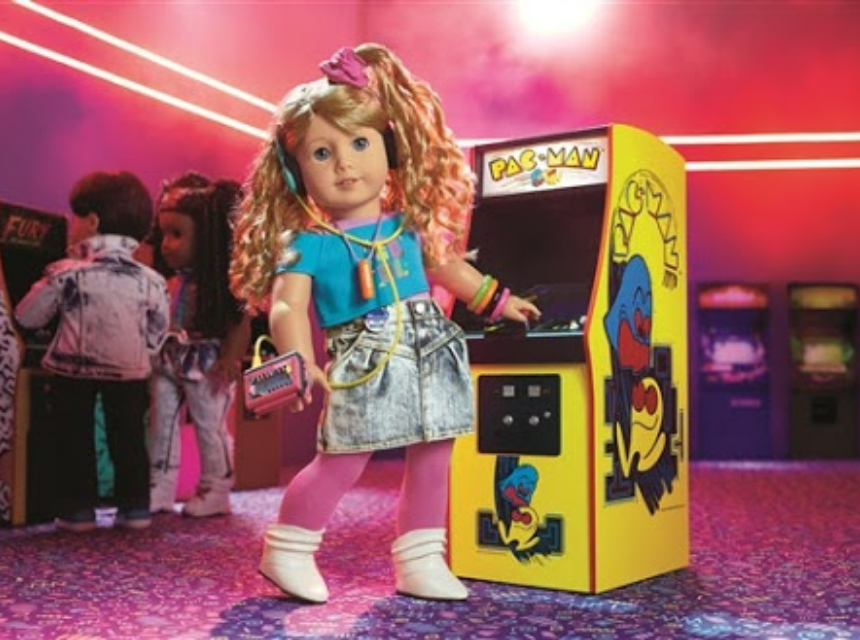 #SISTERHOODSTORY
We teamed up with Apple this year for Day of the Girl, offering a multidisciplinary week of virtual programming celebrating the power of storytelling and sisterhood. Our creative sessions featured incredible women artists and creators including Becky G, Madame Gandhi, Ashly Burch, Reyna Noriega and more.
BREAKING THE
INTERNET FOR
COMPUTER SCIENCE
EDUCATION WEEK
In a move designed to celebrate the unseen contributions of female coders, Girls Who Code launched "Missing Code," a digital campaign that illustrated how broken the internet would be if not for the work done by women. The campaign was made possible by the generous support of Lyda Hill Philanthropies'® IF/THEN® Initiative
WATCH VIDEO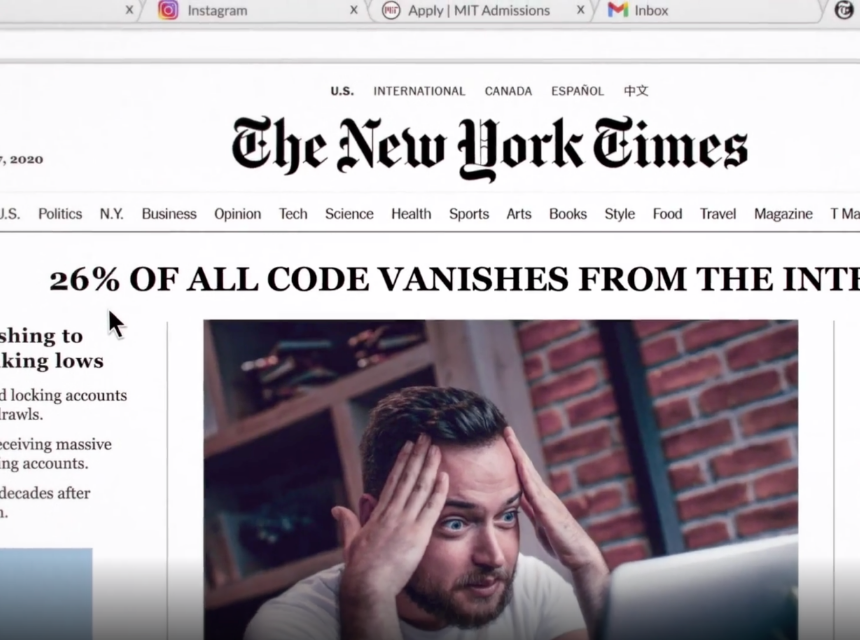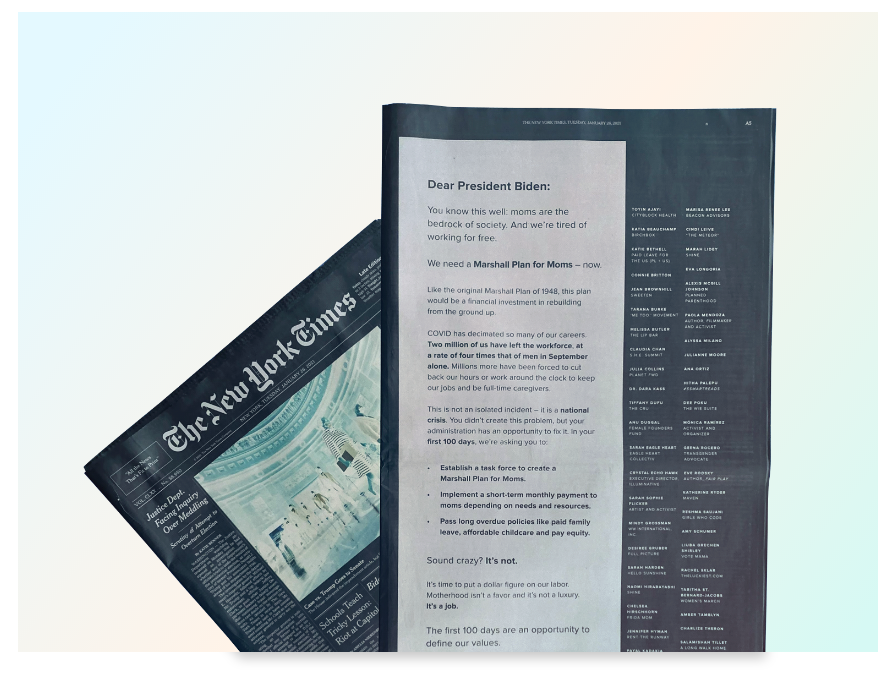 MARSHALL PLAN
FOR MOMS
In January 2020, Girls Who Code took out a full-page ad in The New York Times calling on the Biden Administration to implement a Marshall Plan for Moms—a 360 plan to pay mothers for their unpaid, unseen labor and to pass policies addressing parental leave, affordable childcare, and pay equity. 50 prominent women signed the ad, led by our CEO and founder Reshma Saujani, including Amy Schumer, Alexis McGill Johnson, Julianne Moore, Tarana Burke, Whitney Wolfe Herd, Charlize Theron, Eva Longoria, Gabrielle Union, and Ana Ortiz.
OUR
PARTNERS
$1M+
#StartSmall
AT&T
Bank of America
Prudential Financial
Raytheon Technologies
Walmart
Xandr
$500K - $999,999
Apple
Craig Newmark Philanthropies
Deloitte
FOX
JPMorgan Chase & Co.
News Corp
P&G
Synchrony
$250K - $499,999
Accenture
ADP
Arthur M. Blank Family Foundation
Chuck Lorre Family Foundation
Citrix Systems
DeepMind
Dell Technologies
KPMG
Logitech
Lyda Hill Philanthropies
Morgan Stanley
Olay
TransPerfect
U.S. Bank
$150K - $249,999
BlackRock
Fiserv
Ford Motor Company
General Dynamics Information Technology
General Motors
George Lucas Family Foundation
Humble Bundle
Lyft
Moody's Corporation
Patrick J. McGovern Foundation
S&P Global and the S&P Global Foundation
The Depository Trust and Clearing Corporation (DTCC)
ViacomCBS
Wells Fargo
$75K - $149,999
Amazon
athenahealth
Cadence Design Systems
CNA
Credit Suisse Services (USA) LLC
Delta Air Lines
Dolby Laboratories
Electronic Arts
Goldman Sachs
Intuit
Johnson & Johnson
Kate Spade New York Foundation
Lisa Su
Match Group
MetLife and MetLife Foundation
Microsoft
New York Life Insurance Company
Pfizer Inc.
Pinkerton Foundation
Riot Games
Software.org: the BSA Foundation
State Farm(R)
Tango Card, Inc.
The Travelers Companies, Inc.
The Walt Disney Company
Toyota USA Foundation
Yardi
Zotec Partners
$25K - $74,999
American Express
American Girl
Anonymous
Anonymous
Ansys
BAE Systems
Bare Minerals
Ben and Divya Silbermann
Capital One
Chicago Trading Co.
Decoded Advertising
Elizabeth and Brian O'Kelley Charitable Fund
F5 Networks
Harvest
Huawei Technologies USA Inc.
J3 Events Inc
Lip-Bu Tan and Ysa Loo
McEvoy Spero Family Charitable Fund
Nike
RocketGenius
SAP
The D. E. Shaw Group
Verizon Media
Weikart Family Foundation
WeWork
$10K - $24,999
Ableton Inc
Annenberg Foundation
Anonymous
Autodesk
Ayzenberg Group
Balazs Family Giving Fund
Bright Funds Foundation
Clarkston Consulting
Cox Enterprises
Databricks
DW Gore Family Foundation
E*TRADE Financial
Experian PLC
Fidelity Charitable
FreeWheel
G2
GEICO
Google
IEX Group, Inc.
IndraSoft
Insight
Interior Design
James M. and Margaret V. Stine Foundation
Jeffrey A. Dean and Heidi Hopper
Jeri Juergens
Klayivo, Inc
Leyla Seka
Macy's
Marianne Brown
MasterClass
McKesson
McLelland Family Foundation
National Christian Foundation Indiana
Northrop Grumman Corporation
Okta
OVHcloud
Pinterest
SEI
Shockwave Medical, INC
Sock It to Me
Spain-U.S. Chamber of Commerce
Synopsys
Syntax
The Breman Foundation
Thomas Jordan
TJX Companies
Valor Management
Vettery Company
Wayfair LLC
$5K - $9,999
ACM Sigmod
Adeena Moylan
Anne Marie Phillips
Anonymous
Aspect Capital
Association for Unmanned Vehicle Systems International
BairesDev
Brides for a Cause
CarGurus
Catey DeBalko
Charles and Angela Sunderland Fund - Greater Kansas City Community Foundation
CSRA
Custom House Financial (UK)
Female Founders Fund
First Tech Credit Union
Four-Four Foundation
Gisell Navarro
GoodRx
Herman Singh
Hudson River Trading LLC
IDC Research, Inc
IPG Photonics
Jam3
Jeffrey Gordon
John Shewchuk
Jonathan David Perlow
Juan Benet
Justin Chalfant
Kara Sprague
Kolide, Inc.
LinkedIn
Lore Family Fund
Major League Baseball Player's Association
Marissa Shorenstein
Michael Levy
Nancy Pine
Navis LLC
Netflix
Northwestern Mutual
Pentair
Phil Shawe
Portland Access User Group
Robert Andrews
SafeBreach Inc
SAS
SearchSpring
SecurityScorecard
Sheila Stanek
Shein
The FalCarthy Foundation
Third Door Media, Inc.
TrustRadius
Zachary Johnson
As the pace of digital transformation accelerates, it's critical that we close the gender gap in tech – by both building the talent pipeline and creating inclusive workplaces. While not everyone's journey will be the same, everyone's opportunities should be equal. Synchrony's partnership with Girls Who Code is critical to help build opportunities for mentorship, leadership and skills training for the next generation of women leaders.
CAROL JUEL
EVP and CIO of Synchrony and a member of the Board of Directors at Girls Who Code
VISION FOR
2021
IN
THE
FIVE
YEARS
SINCE
I'VE
JOINED
GIRLS
WHO
CODE
—
FIRST
AS
VP
OF
PROGRAMS,
AND
THEN
AS
CHIEF
OPERATING
OFFICER
—
I'VE
WATCHED
OUR
TEAM
DO
THE
MOST
INCREDIBLE
WORK.
Thanks to Reshma, we are in sight of our goal, in sight of closing the gender gap in tech by 2030.
But the road ahead is long. The COVID-19 pandemic has set countless girls back academically and professionally. And we're still up against a culture that says girls do not belong in tech; up against an industry that needs to be held accountable for hiring, retaining, and promoting women and people of color.
As CEO, I plan to harness every ounce of my personal and professional experience, and bring it to bear on behalf of our girls. Because passionate, ambitious, and diverse young women are the key to transforming our economy and our society. If they can rise to the top, we will all live in a better, more equitable world.
We expanded our signature Clubs in the U.S. and abroad, serving 450,000 girls. We designed and deployed programs dedicated to supporting our ever-growing cohort of college-aged alumni—a group now 90,000 strong. In 2019, we were named the #1 Most Innovative Non-Profit by Fast Company.
And when the COVID-19 pandemic hit, we pivoted quickly—dramatically expanding our reach through virtual programming that was effective, equitable, and accessible. We served the girls who needed us most, the girls most impacted by the pandemic.
For all this, I want to thank Reshma. Without her visionary leadership, our world, our organization, the lives of our girls would all look very different. Her legacy will inspire us all for years to come.
Thank you for your support,
Dr. Tarika Barrett
2020
FINANCIAL
STATEMENT OF
FINANCIAL POSITION
STATEMENT OF
ACTIVITIES